Solid Waste During COVID-19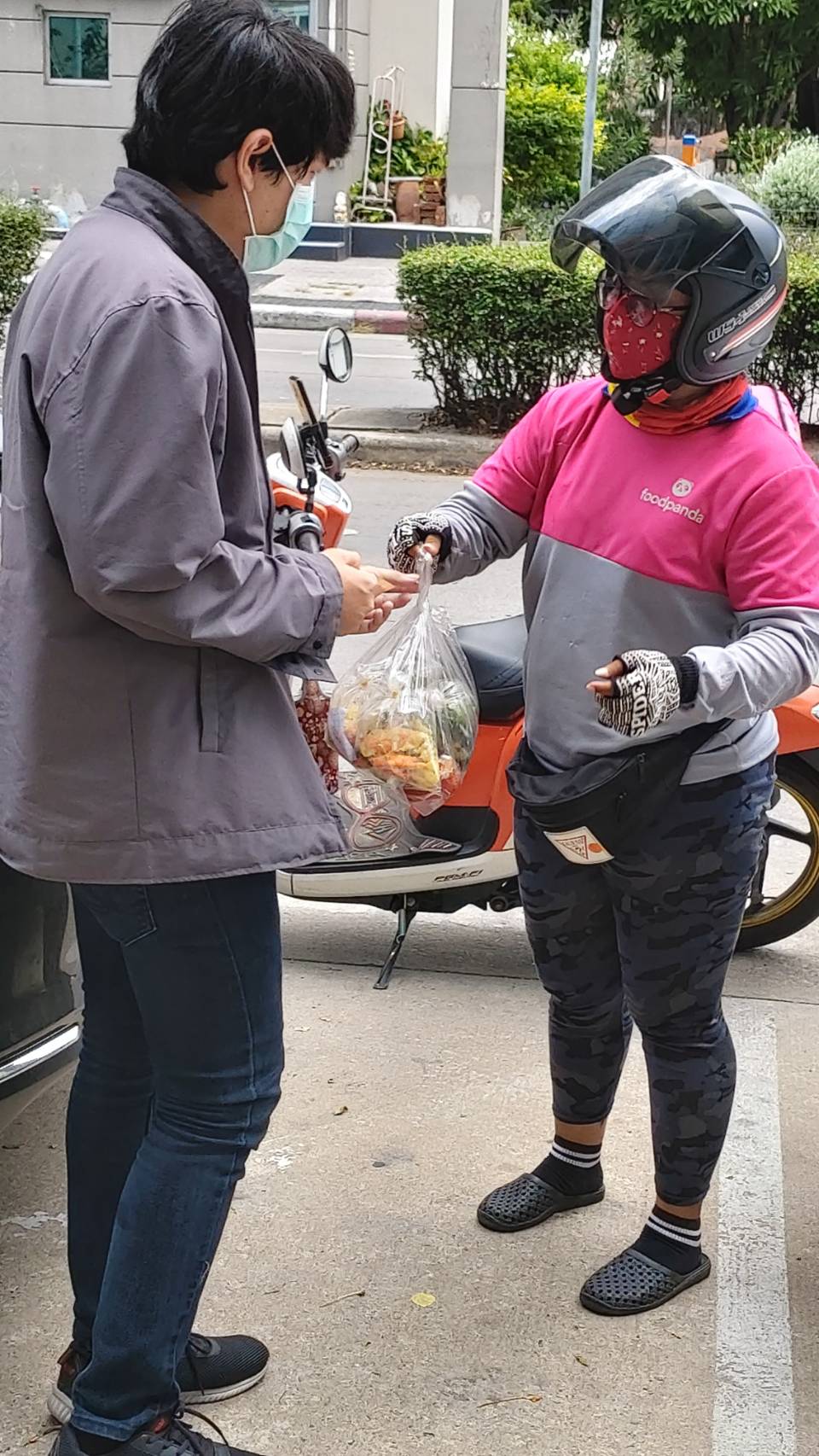 Dr. Wijarn Simachaya
April 30, 2020 | 11:10 PM
Annually, around 27.8 million tons of solid waste are produced in Thailand. This results from Thailand's waste generation of 1.13 kg per capita/per day, of which, 12-13 percent is plastic. Especially in Bangkok, the amount of plastic waste is approximately 20 percent or 2,000 tons out of the total waste of 10,500 tons per day.
During the COVID-19 pandemic, it is found that the municipal waste from urban areas such as Bangkok and other tourism cities, has decreased. In case of Phuket, the waste reduced from 970 to 840 tons per day (13 percent reduction). Also, Pattaya's waste reduced sharply from 850 to 380 tons per day (55 percent reduction). Nevertheless, the overall proportion of plastic waste has increased in almost all cities particularly due to the growth of food delivery services in many provinces of Thailand.
Waste from Food Delivery Services
Food delivery services, along with online shopping platforms, have been rapidly growing up in recent years. The case has been obvious in Bangkok Metropolitan and other urban cities because of the customers' demand of convenience, technology development and undesirable transportation. Previously in normal situation, these businesses were expected to annually expand around 10-20 percent. But, the coronavirus pandemic, already stimulates the growth beyond 100 percent.

The consequence of this situation is the increase of plastic waste. In general, the waste from food delivery services generates at least 5 solid waste items per order from packaging and accessories such as plastic bags, paper/plastic containers, plastic packs separating food types, seasoning packets, as well as plastic beverage glasses, wooden/ plastic chopsticks, plastic spoons/forks and tissue paper.
As customers' demand for convenience is the main driver for the growth of food delivery, having a large segment of customers to support the push of food delivery into waste reduction and environmentally friendly business would be a challenge. However, for some eco-conscious consumers, there should be ordering options that could reduce plastic waste and could be environmentally friendly or refuse some plastic packaging.
Alternatives that food enterprises, application service providers and food packaging producers should implement to reduce plastic waste are:
Refrain from using and providing single-use plastics such as plastic spoons, forks and straw.
Choose degradable food containers such as packages made of papers and Bagasse.
Choose reusable food containers through providing packaging deposit for niche-market customers.
Design food containers which are appropriate for each type of food to reduce waste generation, for instance, having separated compartments for different types of food in a container instead of using more ones.
Add ordering options through applications to choose whether to receive plastic spoons or other accessories that may not be necessary.
Waste from Medical Masks
Another waste that has significantly grown up during the COVID-19 pandemic is infectious waste particularly the used medical masks. Around 1.5-2 million masks are nationwide used per day especially in Bangkok where they have increased 1.7 tons per day. Currently, 50 tons of total infectious waste are collected from various medical centers, but only 43 tons per day, in normal situation, are treated by effective incinerators.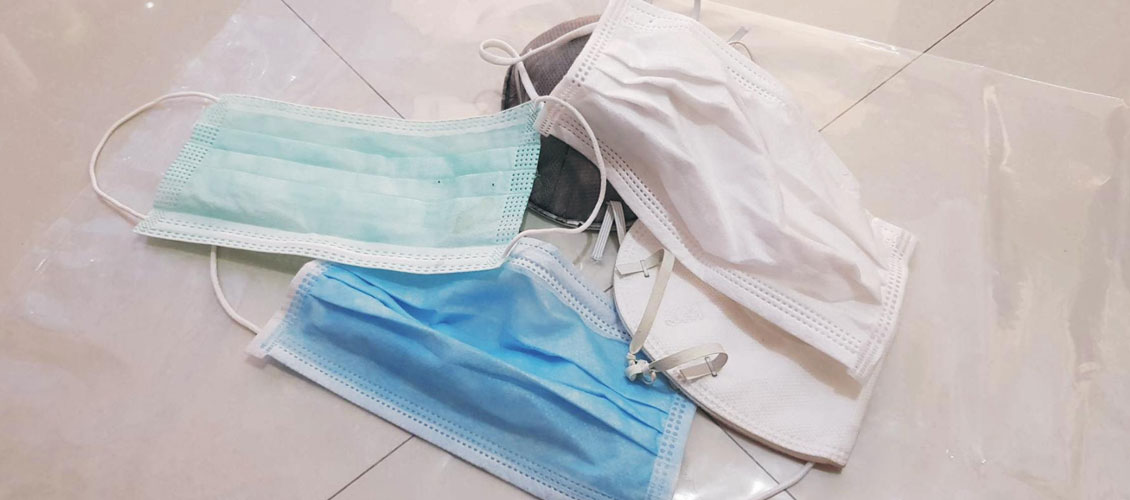 According to the report of nationwide official waste collection, the mix between other municipal and infectious waste is the main problem. The inappropriate disposal of used medical masks could cause transmission to people. They may be infected with the virus without any symptoms.
What should be done are:
Separate the used medical masks from other municipal waste.
Dispose in red garbage bins, hazardous or infectious waste bins.
Collect in separated plastic bags or bottles and label "used medical masks or infectious waste" before being carried for waste treatment by garbage collection trucks.
These measures could facilitate the separation of infectious waste for the responsible agencies to incinerate with temperature higher than 1,000 Degree Celsius which could effectively disinfection.
Waste from Cooking at Home
In addition to reducing plastic waste and used medical masks, food waste form home-cooking is another waste we could also reduce. Food waste accounts for more than 50 percent of the total waste.
There are many ways to reduce waste from cooking at home, including: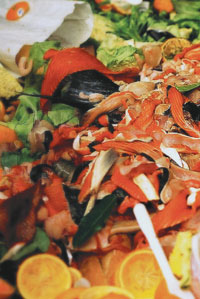 Plan before buying such as the menus and buying fresh food and vegetable accordingly as per the households' needs.
Well-store with appropriate temperature
Grow vegetables that are often used or fast growing, such as sweet basil, holy basil, spring onion, coriander, water spinach and bean sprouts.
Choose menus that are preferred by the majority of household members to reduce food waste.
Refrigerate leftover food immediately and eat up by the next meal.
Separate food waste before the disposal. If there is space, the waste could be composed as soil amendment or bio-extract fertilizer
Waste separation is important in all situations both before and after COVID-19 in order to enhance the chance for plastic waste to be collected and recycled which is a way for resource reduction, aligning with the circular economy approach. To do so, relevant government agencies have to develop the management system to assure people that the separated waste will not be mixed with other waste or sent to landfill eventually. This could be done through, for example, providing recycled garbage bags to households and making collection schedules or having collection centers of recycle waste in communities.
Government sector needs to control the use of single-use plastics while applying incentive measures to expand markets for eco-products and packages in competition with general products.
Solid waste is the key issue of Thailand which is a result of human's activities. Major solution is that we all assess ourselves what waste we unnecessarily generate and target then to reduce. If everyone collectively helps, there would be a huge positive change for the country.
---

By Dr. Wijarn Simachaya
President of Thailand Environment Institute
---